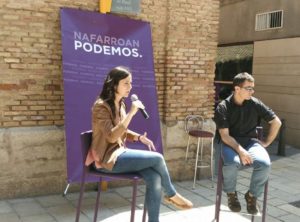 The Spanish Interior Ministry has banned Tuesday (Sept.5) an MP and member of the Podemos party, who openly supports the Polisario front, from visiting Sahrawi asylum seekers, held at Madrid-Barajas airport awaiting their deportation to Algeria.
Some 80 Sahrawi defectors, who were supposedly heading to Cuba, disembarked on August 22 during a stopover at Madrid airport and applied for political asylum. But all the applications were rejected by Spanish authorities, which fear that other inhabitants of the Tindouf camps will follow suit.
On Tuesday, the Ministry of the Interior refused to let the Podemos MP, Ione Belarra, visit the detention center of the Madrid-Barajas airport, where the Sahrawis are waiting to be flown back to the Houari Boumediene airport in Algiers.
Ione Belarra protested against this ban in a tweet saying, "what would they hide, to forbid us access?"
In the Tindouf camps, the Polisario and its leader Brahim Ghali fear a massive exodus of disenfranchised Sahrawis who lost all hope of a better future, as most Sahrawis have realized that the status-quo in the Sahara issue benefits only the Polisario leaders and the Algerian regime.
For proof, the Polisario leaders did not react to find an honorable outcome for the Sahrawi defectors stranded in Madrid.
Worse than that, on the instructions of Brahim Ghali, the representative of the so-called Sahrawi republic "SADR" in Havana, Malainine Elkana, recently handed over a classified document to the Cuban Minister of Health, urging the medicine university not to issue diplomas to the Sahrawi graduates until their return to Tindouf. The document is dated June 27, but it was unveiled only recently by a pro-Polisario website.
In doing so, the Polisario will have killed two birds with one stone. It prevents young graduates from fleeing abroad and forces them to serve in the camps and at the same time, it keeps them as reservist soldiers, to be conscripted in the so-called Polisario army, if necessary.