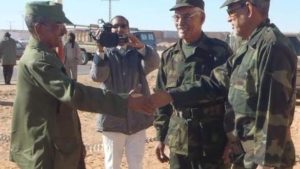 The Polisario leader Brahim Ghali and his rival Mohamed Lamine Bouhali have been settling scores since the latter was sacked in June 2016 from his position as "Minister of Defense".
To take his revenge, Bouhali, who refused to change his position as "Minister of Defense" against the symbolic position of "Minister for the Construction and Repopulation of Liberated Territories", is attempting to fuel, with the support of his powerful Rguibat tribe, the anger of the Tindouf camps population against Brahim Ghali and his lieutenants.
The Polisario chief fears the agitation of Bouhali, although he is under the watch of Algerian intelligence agencies, because a popular insurrection in the camps at Bouhali's instigation would complicate further the delicate juncture the Polisario is going through. The Polisario is actually in great trouble right now in view of Morocco's recent diplomatic victories in Africa and the United Nations.
According to a Moroccan news portal, on Tuesday, May 2, the Polisario leadership decreed a curfew in the camps in anticipation of a sit-in that was scheduled the following day in front of the Polisario's headquarters in Rabouni.
The organizers of the sit-in intended to protest against what they called the "humiliating" decision of the Polisario to withdraw its militiamen from the buffer zone of Gueguarat, without receiving any "compensation".
The camps' inhabitants were banned from movement as of 7 pm, and controls were reinforced at the checkpoints erected at the camps entry.
The Polisario seeks, through these monitoring measures, to prevent the escape of disenfranchised Sahrawis towards Mauritania.
The Polisario, fearing binding sanctions by the UN Security Council, hastened last Friday to withdraw its armed elements from Guerguarat before the vote of resolution 2351.
The Polisario had erected checkpoints in the buffer zone since mid-August 2016, disrupting thus road traffic between Morocco and Mauritania.