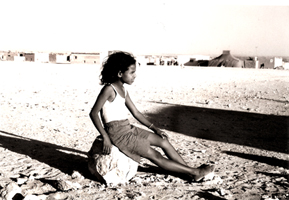 A new group of Sahrawis has just escaped from Tindouf camps, in Algeria, to join Morocco where hundreds of their compatriots have preceded them during the last weeks. The arrival to Sahara of this group composed of  35 Sahrawis, confirms that this continued wave of escapes won't stop soon.
The reason of this important escape from Tindouf camps relies in the similar declarations of the rallying people themselves: being tired of the Polisario pointless separatist propaganda, aware of these ideological anachronic revendications which are, henceforth, not more than a mirage, weary of remaining packed in the desert, in destitute and shameful conditions. All this to serve the gloomy intentions of Algeria's regional hegemony and a small separatist group, which are not seduced by the idea of representing the Sahrawis.
A great number of  about 300 young and adult people, counted since the end of last March, have joined Morocco. Their age varies between 15 and 50 years. There are also women, most of the time accompanied with their children. This means that the propaganda of the last group of the Polisario separatists has no hold over the young people, born in the camps of grief and forced exile. This means, particularly, that the ill and old people do not have the force or the means to escape the Algerian camps of Tindouf. 
The people, who have joined Morocco, are themselves testifying today that most of the Sahrawis retained by force in Tindouf are convinced that the "Sahrawi Republic" dream exists only in the minds of Algiers armed forces and a small group of separatists. The glimmer of hope, they see it in the perspectives opened by the autonomy plan presented by Morocco which relevance and well-founding are recognized by the International community and the Security Council.
For them, it is this hope which pushed them to turn their back to Tindouf camps, a hope growing inside them because they are confident that their compatriots left in Tindouf would certainly join them.