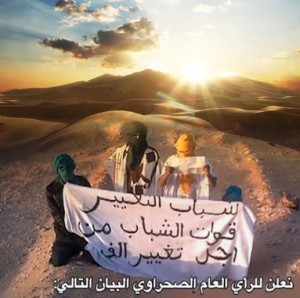 The Sahrawis sequestrated for more than forty years in the Tindouf camps in Algeria are faced with two choices: either flee to another destination or continue to suffer. No other alternative is offered to them. They do not even have the right to demonstrate or to speak freely.
Many youths who were born in the camps and who do not even know their homeland, Morocco, continue to campaign anonymously via social networks.
This is the case of many Sahrawi dissidents and members of the Youth Movement for Change (MJPC) who opted for this modus operandi to denounce, whenever they can, the conditions of insecurity, repression and despair prevailing in the Tindouf camps.
In a video released on January 28 on You Tube, three young activists of the MJPC strongly denounced the indifference of Polisario leaders and their inability to fulfil the expectations and basic needs of the camps' residents.
The hooded three young Sahrawis deplored the deteriorating living conditions in the camps and the ordeal of the populations that survive only thanks to the next to nothing of international food aid they receive.
For those who chose to flee the camps and who manage to do so, they first head to Mauritania wherefrom they go to Morocco to reunite with their families and relatives.
However, since the tragic Gdim Izik events in November 2010, Moroccan authorities show more vigilance to prevent the infiltration of guerrillas, sent by the Polisario to sow discord and ignite turmoil in the Moroccan southern provinces.
According to reports from Nouakchott and Nouadhibou, hundreds of Sahrawis who fled the Tindouf camps are daily queuing before Moroccan consulates to try to obtain entry visas to Morocco.
But since the Gdim Izik events that were fueled by Polisario supporters, the visa applications are processed by the central authorities in Rabat and are delivered after a thorough scrutiny of each application.
This strategy proved efficient as it helped reduce the acts of looting and vandalism committed by pro-Polisario activists.