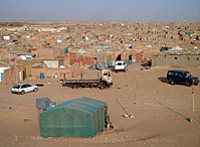 The violations of human rights in Tindouf within the camps of Lahmada, in the south-west of Algeria, do not cease defraying the chronicle.
Parked during years, after being led by force in 1975 and 1976, what is called the "sequestered Sahraouis of Tindouf" continue to live a true martyrdom, with the contempt of the international law and most elementary human rights. Worse: they are used as parade by the Algerian propaganda.
Deprived of their rights, the sequestered of Tindouf are placed under monitoring, subjected to daily repression, exactions, and the pure and simple rejection. Their dignity is ridiculed every day and their life threatened.
The associations of human rights denounce regularly the policy of repression practiced by the Algerian military authorities.
Placing them under tents with false statute of "refugees" instead of sequestered, the Algerian authorities' expose them to the international press for which it organizes supervised tours, but reveals only the folding screens of a business which is actually one of the largest mystifications. The alleged "refugees" exposed to the cameras like were formerly the Palestinians piled up under tents, "are actually only sequestered" of whom the rights are trampled and the existences abused.
The United Nations do not stop recalling the Algerian authorities to the respect of the human rights in Tindouf. The Algerians are paradoxically the curious defenders of the Man's rights within the 4th Committee of the UN which meets each year regarding the problems of decolonization. These are two contradictory and pure Machiavelli attitudes.
In Tindouf, the human rights are fought in the name of repression, of deprivations and violence practiced against the women, the old men and the children. Those are kidnapped, recruited by force and sent to Cuban camps. They are then formed and "educated" with hatred.
The democratic countries, sensitized with this serious infringement of the rights of the children, denounce this criminal "export" of the sahraouis children to Cuba; Policy of pressure, introduction of a climate of suspicion, of permanent denouncement and wild repression.
In the camps of Tindouf, the Man is moneyed in the name of propaganda, deprived of its elementary rights and ridiculed in its dignity.