The anger of the Sahrawis living in Tindouf does not seem to  calm down any time soon and the youths are not ready to give up their claims to freedom and to decent living conditions but the Polisario and the Officers of the Algerian military intelligence services (DRS) continue to disdain these claims, commented informed sources from the Tindouf camps.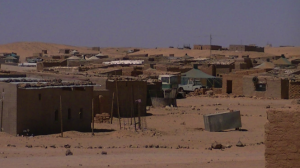 This is why the vicious circle of protest movements and the ensuing repression is hard to break, said the same sources, noting that tension between the Sahrawi youths and the Algeria-backed separatist Polisario front is increasingly exacerbated because the problems behind the uprisings persist.
After forty years of exile in the desert region of Tindouf where living conditions are extremely difficult, the Sahrawis see no way out of their plight. Prospects for a settlement of the Western Sahara conflict are nowhere to be seen and the Polisario's promises are mere whims. The Polisario chief, Mohamed Abdelaziz, continues to claim that victory over Morocco is near, but the Sahrawis do not listen to him anymore.
The situation of the Sahrawi youths is even more tragic. They were born and raised in the unhospitable desert and are denied any freedom of expression or freedom of movement outside the camps. However, they are fully aware that their sequestration is used by Algerian leaders as a bargaining chip in a regional show of strength.
The youths who have nothing in the camps but chronic unemployment and desperate lack of prospects are just waiting for the opportunity to run away from the camps. But the close surveillance of the camps by the Polisario and the DRS Officers make any escape attempt a perilous, if not a futile, undertaking. Many persons who tried to flee and join Morocco were killed by the Polisario militia or Algerian soldiers.
The protest movements that have been going on for months and the violence used by the Polisario to quell these protests translate the serious tension prevailing in the camps, said the same sources.