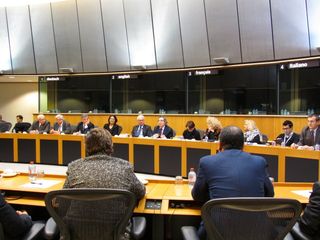 Morocco's stand in the settlement process of the Western Sahara conflict gained new support within the European Parliament.
The EU-MOROCCO friendship Group at the European Parliament, actually voiced backing on Wednesday in Brussels, through its president Gilles Pargneaux, to Rabat's recent decision to withdraw its confidence in the personal envoy of the UN Secretary-General for the Sahara, American Christopher Ross.
Morocco had made this decision because of Ross's "unbalanced" and "biased" positions and asked the UN S.G, Ban Ki-moon, to take the appropriate decisions to press forward the negotiations in order to reach a long-lasting and consensual political solution.
"We support Morocco's justifiable position on Christopher Ross deeming that there was in fact a mistrust, on account of the discrepancy found in the latest report on the Sahara", Pargneaux said.
The EU-MOROCCO friendship Group, he said, is convinced that the Moroccan Sahara autonomy plan constitutes "the best of solutions to this conflict, because it will allow to bolster security not only in the Sahara, but in the whole region of the Sahel which is today facing up many problems".
Pargneaux who was talking at the end of a meeting between members of the Group and speaker of the Moroccan House of Representatives, Karim Ghellab, said the Moroccan proposal will also boost the economic development of the Moroccan Southern provinces, a development, he said that "I noticed on-the-spot during my recent visit to Laâyoune (from March 29 to April 2), and that was made possible thanks to the efforts exerted by Morocco and thanks to the partnership between the Kingdom and the EU as well".
The European MP on the other hand underlined the need to continue upholding the Moroccan Sahara Autonomy Plan within the European Parliament, saying that the Moroccan position is fair, not only for human rights related reasons, but also for considerations relating to economic and social development that will likely benefit all the inhabitants of the Moroccan Southern provinces.
The message is thus crystal clear for the detractors of Morocco within the European Parliament and elsewhere as well.