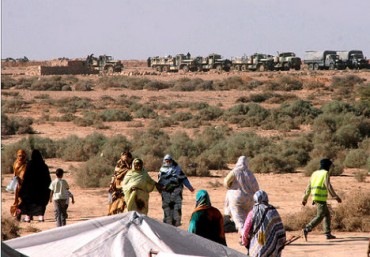 At the time when new informal negotiations on the Sahara should take place at the beginning of February in Manhasset, near New York, human rights situation in Tindouf camps, in Algeria, is still worrying.
These apprehensions were expressed by the French Minister of Foreign Affairs, Alain Juppé for whom « the human rights situation in Tindouf camps, in Algeria, should be improved ». Starting from the position of France, which contributes financially to the humanitarian aid granted to the Sahrawi populations in Tindouf camps, Alain Juppé believes necessary to make a census of these populations. He, thus, supports the UN Security Council which had already asked for the census of these populations settled on the Algerian territory. Nevertheless, Algiers continues ignoring these requests, which annoy its military and diplomatic support to the Polisario Front, struggling against Morocco, for the independence of the Sahara region. Because of this intransigent position of Algiers and the Polisario, the informal negotiations continue going around in circles and are today at their 9th round without significant progress.  Despite of the calls of the Security Council to intensify the negotiations to reach a sustainable political solution, mutually acceptable, the process continues being sucked down.
Algiers and the Polisario continue rejecting the Moroccan autonomy plan for the Sahara, which was nevertheless being qualified, in six successive resolutions of the Security Council, of being a serious and credible base for negotiations. The Resolution 1979 (2011) has thus vainly incited the protagonists to start substantial negotiations and to show some realism and compromising attitude to find an acceptable solution.