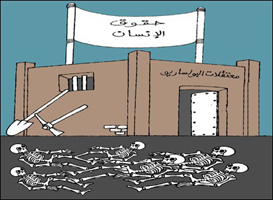 From terrorism to mercenary actions, passing by systematic torture, exclusion and sequestration, tracks of torturers from the Polisairo separatist movement are present everywhere. In this context, a process undertaken lately by a Sahrawi association with the Canaries Islands government, has come to remind the inhabitants of these peaceful islands, horror of crimes committed by Polisario armed militia during an attack perpetrated in the 80s, against the Spanish sailors of the Tago Mago tawler. The Association of Parents of Disappeared Persons (APDP) has handed in a letter in Las Palmas, to the president of the Canarian government paulino Rivero Baute to draw his attention to the crimes and "tortures committed by the Polisario against the Sahrawis in the Algerian territory". In this letter, the president of the Sahrawi association, Dahi Aguai questions the chief of the Canarian executive about the destiny till now unknown, of many Sahrawis, victims of savage and systematic torture inflicted by the Polisario on the Sahrawis detained in the jails dotted on the Algerian territory". Dahi has called the Canarian government to help these victims and their families to recover their rights violated by the torturers from the separatist movement.
In his letter, the APDP recalls also that a great number of detained people, among whom five Spanish citizens who were imprisoned in the Polisario prisons, have mysteriously disappeared since the end of the 70s. Since this date, they have no more shown any sign of life and their families are worried about the destiny which has been reserved to them. To shed light about these forced disappearances, the Sahrawi association addressed the president of the Canarian government developing some links which are more or less close with the Polisario leadership and the Algerian government.
The APDP reminds to have already submitted a "complaint to the Spanish court against the Polisario torturers", stating to have "a great confidence in justice and in the Spanish government".
"Politics, supports the association, can never protect those responsible of human rights violations because Polisario uses this political openness to cover them and more than that its leaders move in many European countries, namely in Spain, with Algerian diplomatic passports, and this, despite of the reports of international organizations calling for taking a legal action against them". Would the Canarian government do better than Human Rights Watch or Amnesty International? It is at least what hopes for the Sahrawi  association which has vainly knocked at different doors.