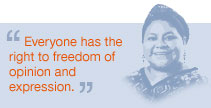 A big media "bomb" was launched on December 14, 2007 through the complaint of sahraoui victims of «Genocide and Terrorism" against 28 high ranked personalities in charge for the Polisario Front and Algeria.
New fact, it is the first time that the International Justice is interested in the case of the "Geôliers de Tindouf" and their victims. It is a true awakening for the international public opinion that has serious suspicions about the practices of slavery within the camps of Tindouf.
Saadani Maoulainine, Dahi Aguai, and Hosein Baida Abdelaziz decided to carry out their combat for the recognition of the exactions of which they were victims. Whoever mistaken, the direction of history is likely to be caught a slap, and the jails professionals who are the members of the Polisario front and Algerian military security hear now a throbbing noise of the bars that will be closed soon on them… exhaustive list to be continued…
1. SIDAHMED BATTAL.
2. SIDI WAGAG.
3. EL JALIL AHMED.
4. BRAHIM GHALI.
5. JANDOUD MOHAMED.
6. ABDELWODOUD EL FERI.
7. MOHAMED SALEM SANOUSSI "SALAZAR".
8. TALEB HAIDAR.
9. BRAHIM BEIDILA.
10. MAHJOUB "LINCOLN".
11. MOHAMED ROLLS BUHALI.
12. EDDA HMOIM.
13. AHMEDU BAD.
14. ALI DABBA.
15. BACHIR MOUSTAFA SAYED.
16. MOHAMED JADAD.
17. MOLUD LEHSEN.
18. MOHAMED HNYA "DERBALI".
19. MOHAMED ALI HNYA "DEGAULLE".
20. LUCHAA OBEID.
21. MOLUD DIDI.
22. MAHFOUD HMEINA DUIHI "ALI BEIBA ".
23. MOHAMED FADELN "JAPAN S".
24. GENERAL LAMARI.
25. NABIL "KADOUR".
26. NADIM BENASER.
27. MAHFOUD.
28. ABDERRAMAN BOUH "MICHEL".