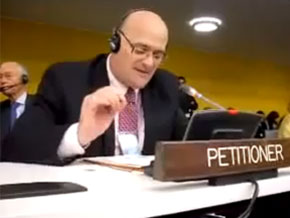 The Polisario military junta should free the Sahrawi populations from the tyranny to which they have been submitted in Tindouf camps, to allow them to rejoin their country which realities they ignore  because of the propaganda spread by Algeria and the Polisario. It is a call made by a journalist well known in the Spanish media scene. Chema Gil, a Spanish  journalist and writer of many publications, has underlined within the same frame of ideas, that autonomy proposed by Morocco for the settlement of the Western Sahara conflict, "is not one of the options, but constitutes the final solution". This project, has he specified, meets fully the expectations of the great majority of Sahrawis who aspire only to join their homeland and to live there peacefully and in total dignity.
Incidentally, Chema Gil has denounced the flagrant human rights violations committed by the Polisario in Tindouf, against the sequestrated populations, notably women who are often victims of rape and forced to increase the size of the population. It concerns, has he supported, the fact of seriously undermining the human dignity and women's freedom.
Chema Gill who has visited many times the Tindouf camps, tells that nobody can express himself with freedom, even  about the Moroccan autonomy proposal. He gives as example, the separatist movement dissident, Mustapha Salma Ould Sidi Mouloud, who was arrested, imprisoned and tortured only for having declared in public, his support to the Moroccan autonomy proposal.
Evoking information about the collaboration of some Polisario elements with the nebulous terrorists of Al Qaeda in the Islamic Maghreb (Aqmi), Chema Gil ensures that the members and militants of the Polisario were working on behalf of terrorist organizations. They commit, as he specifies, some criminal acts in the Sahelo-Saharan zone for the benefit of Aqmi whose members are involved in all kinds of unlawful traffic and devote themselves to kidnapping and sequestration of Western citizens. He has finally called the Spanish journalists to be more open to the realities of the current Morocco, its history and the change taking place there, putting an end to the old ideas and stereotyped clichés about the Kingdom.