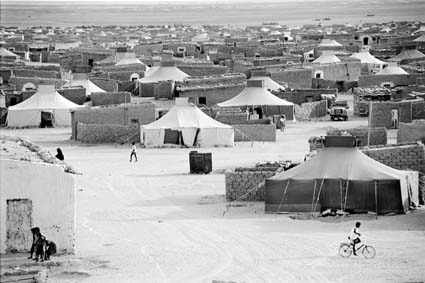 Mohamed Salek ould Salek, lthe so-called Polisarion Foreign affairs Minister has made a declaration, the least of which we can say, it is a surprising one. He has asked, on Thursday 25th November, that Spain becomes again the powerful administration in the Sahara. Ould Salek responded to a declaration made by Trinidad Jimenez, Chief of Spanish diplomacy, at the Second House of the Spanish Parliament. Jiménez has stated in front of the Members of the Spanish Parliament that the Morocco-Spanish Agreement of Madrid, stating the retrieval of Spain from the Sahara, made null and void the allegation of the Polisario considering Morocco as an "occupying power" of the Sahara. Ould Salek ha reacted by stating that the declarations of the Spanish Minister were "dangerous and groundless". Imperturbable, he declared that "Spain has renounced to its responsibilities in the Sahara in 1975" and has asked that Spain "returns to the Sahara affairs".
These  single declarations made by a Polisario leader, whose small group is presented to the international opinion as being "a liberation movement", do not fail to stagger. They inform especially about the real intentions of the separatist group which works, from the Algerian territory, on instigation of the Algerian military services and government. Without turning a hair, Ould Salek goes far, even to ask for armed intervention of Spain in the Sahara so that, the so-called, "Spanish state assumes its responsibilities".
Some trivialities which push to ask which credibility to grant to the Polisario, which does not hesitate to call for the return of the colonizer to its old colony, 35 years after it was obliged to leave it with the resistance of all Moroccans and the political and diplomatic perseverance of Morocco?