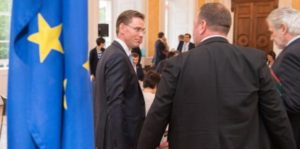 The European Commission has vindicated Morocco's arguments, foiling attempts by the Polisario and its backers to harm the Kingdom's territorial integrity.
The Commission adopted on Monday (June 11), a protocol including products of the Moroccan Sahara in the agricultural agreement.
Following the meeting of the College of Commissioners, the European Commission adopted an agreement in the form of an exchange of letters between Morocco and the European Union (EU), with a view to granting preferential tariffs to farm and fisheries products imported by the EU from the Sahara.
The European Commission said in a press release that it had adopted the protocol after extensive consultations with elected representatives, local civil society activists and relevant organizations in the Sahara provinces.
The tariff agreement extended to the products of the Sahara, aims to support, as stipulated by the European Court of Justice (CJEU), the economic development of the Sahara provinces, and this in accordance with the position of the European Union on the Sahara issue, noted the commission in the press release.
The EU's executive body, which openly admits the "serious and credible" nature of the Moroccan autonomy proposal for the Sahara, has thus kept its word by including the Sahara in the Morocco-EU association agreement.
Brussels has thus dealt a new blow to the Polisario and other parties hostile to the territorial integrity of Morocco.
On June 7, at the occasion of the "Great Interparliamentary Conference", the Head of the Maghreb Division of the European External Action Service (EEAS), Vincent Piket, had reaffirmed that "the Polisario is not the only representative of the Sahrawi populations". "It is not recognized by the (EU) Member States. It is a reality and a political fact that we cannot deny," he said.
"The European Court of Justice has at no time given reason to the Polisario" in its judgments of 2016 and 2017, noted Piket, underlining that therefore, the EU as a partner of Morocco, "cannot in any case conclude agreements with an entity which has no legal identity, which has no legal personality and which no (EU) Member State recognizes".