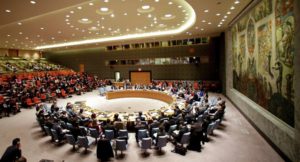 In its resolution 2414 adopted Friday (April 27) by 12 votes for and 3 abstentions (Russia, China, Ethiopia), the UN Security Council extended the mandate of MINURSO for six months until 31 October 2018, and asked the Polisario to withdraw from the Guergarate buffer zone and not change the status quo in the Moroccan Sahara.
"The Security Council's injunctions to the Polisario separatists are a stinging denial of their delirium and propaganda about an alleged control in the East of the security wall, or about a whimsical entity that exists only in their mind and in the mind of their Algerian mentor," said, shortly after the vote, Morocco's Permanent Representative to the United Nations, Omar Hilale.
Resolution 2414, he added, "confirms Morocco's position and firmness with regard to the recent provocations of the Polisario east of the security apparatus and in the Guergarate buffer zone".
He told a news conference in New York that the Security Council "urged the Polisario to withdraw immediately from the Guergarate buffer zone" and ordered the separatists "to refrain from transferring their so-called administrative structures from the Tindouf camps in Algeria to Bir Lahlou, to the East of the security wall". The Security Council described such acts as "destabilizing" the region, the diplomat said.
On the other hand, and contrary to the wish of the leaders of Algiers and the Polisario and their supporters who were expecting the resolution to extend the MINURSO mandate to human rights monitoring in the Moroccan Sahara, the Security Council welcomed the role of the Commissions of the Moroccan Human Rights Council (CNDH) operating in Dakhla and Laayoune. It also welcomed Morocco's interaction with the Special Procedures of the UN Human Rights Council.
The resolution also calls on neighboring countries, and specifically Algeria, to become fully involved in the UN-led settlement process to achieve "a just, sustainable and mutually acceptable political solution".