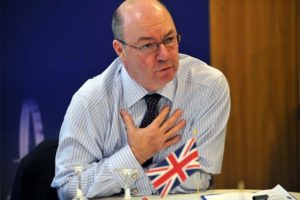 British Minister of State Alistair Burt, who was questioned last week by a member of the Scottish National Party, Alan Brown, on the issue of the Members of the European Parliament who were banned from entering Morocco, said his Government was not concerned by this question.
 The British government has avoided falling into the trap set by some MEPs, acquired to the Algeria-backed Polisario's separatist theses, who sought to involve London in this issue.
 London's cautiousness was mirrored in the response that the British Minister of State for the Middle East and North Africa, Alistair Burt, gave to the deputy of the National Scottish Party (SNP).
Responding to the question posed on November 13 by MP Alan Brown on the entry refusal to the Moroccan province of Laayoune, the British Minister of State said "this case concerns (rather) the European Parliament and the Moroccan authorities".
 Furthermore, the members of the European parliamentary delegation "were not on an official mission," said the British official, who made it clear that he did not intend to raise this issue with Morocco's Embassy in London.
 Excluding "any interference in this affair", the British Minister reiterated the position of his country on the Sahara issue, saying that the United Kingdom "supports the efforts of the UN Secretary-General to reach a just, lasting, and mutually acceptable solution" to the conflict created over the Moroccan Sahara.
The British official has thus dealt a new blow not only to the leaders of Algeria and the Polisario, but also to their European backers, who are paid by Algerian intelligence services to sow turmoil in the Moroccan southern provinces.