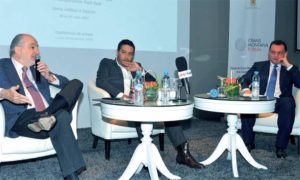 The Crans Montana Forum officially announced that it would convene its 3rd edition in the Moroccan southern city of Dakhla in March 2017. Dozens of outstanding personalities are expected at the Forum, including heads of State and eminent experts from the four Corners of the world.
This international meeting is organized by the Swiss NGO Crans Montana under the theme "Towards the New Africa of the 21st century." Debates will focus on other subjects related to topical international issues such as the fight against terrorism, regional conflicts, migration, food security, education, new technologies and the environment.
The successful second edition of the Forum held in Dakhla in 2016 brought together many political figures, including the president of Bosnia, heads of state of the Pacific countries, former heads of government and ministers, and a number of parliamentarians, particularly from Europe.
The holding for the third consecutive time of this international event in the second largest Moroccan city of Western Sahara deeply irritates Algerian and Polisario leaders who have been chasing, for over forty years, the chimerical dream of the independence of this part of the Moroccan Sahara.
And, every time the Crans Montana Forum comes to Dakhla, the Algerian rulers and their Polisario puppets decry the Forum leaders and mobilize their lobbyists in Europe and elsewhere to undermine this important forum and criticize the Crans Montana NGO, whose influence and status have been recognized worldwide since 1986.
At a press conference held on November 28 in Rabat to unveil the full program of the meeting, the founder and honorary president of the Swiss NGO, Jean-Paul Carteron, said that "Dakhla has become a development model for all of Africa," and that the city highlights the Kingdom's role in the continent
The holding of the forum in Dakhla enables the whole world to see on the spot the development projects achieved in the south of Morocco, he said, adding that the choice of this city "also makes it possible to lay bare the fallacies propagated on the issue of the Moroccan southern territories and to show that there are no problems in the south of Morocco."
Jean-Paul Carteron also stressed that the forum "is meant to be a platform through which world decision-makers exercise a democratic act," and that "all those who oppose the democratic exercise belong to the same family as North Korea."
And it is precisely the case of the Algerian autocratic regime and the torturers of the Polisario who seek to impose, by all means, their diktat on the international community.