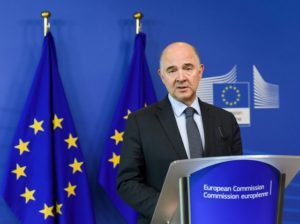 Brussels reaffirmed Tuesday the exclusivity of the UN in handling the territorial dispute of the Sahara. This came during a debate of the Foreign Trade Committee of the European Parliament (INTA) on the renewal of the Morocco-EU agricultural agreement and its repercussions on the population of the southern provinces of the Kingdom.
During this exchange of views, Pierre Moscovici, the European Commissioner for Economic and Financial Affairs, Taxation and Customs, noted that this agreement has three objectives.
The new agreement is in line with the ruling of the European court of Justice of December 2016; ambitions to support the local development by extending tariff preferences to products coming from the region; and stresses the imperative not to interfere with the ongoing UN political settlement process of the Sahara issue, he said.
This issue, assured the European Commissioner, falls under the exclusive responsibility of the UN and the EU can only support this process, while being careful not to interfere.
He made it clear that throughout the consultation process, which was conducted in a broad and inclusive manner with all stakeholders concerned by the renewal of the agricultural agreement, "we have adopted a neutral and depoliticized approach", he said, calling on MEPs to do the same.
"You are not asked to make a decision on the final status of the Sahara. What is required is the creation of a legal basis for granting tariff preferences to products from the Sahara for the benefit of the Sahara populations," he told the INTA Committee members.
These tariff preferences, he explained, will contribute significantly to the socio-economic development of the region and thus to its stability.
The new agricultural agreement, insisted Pierre Moscovici, would have a positive impact on the local population especially in the main sectors of agriculture, fisheries and potentially phosphates. He recalled in this respect that 45,000 local jobs depend directly or indirectly on fisheries and 14,000 other jobs on the agricultural sector.
He warned that any refusal to grant tariff preferences to products from the region would significantly undermine the region's exports and have an extremely negative impact on the population.